Enable us to know, — as in heaven, so on earth, — God is omnipotent, supreme.

Science and Health with Key to the Scriptures by Mary Baker Eddy
Visit us at to learn more!
1721 E Hamilton Rd Bloomington, IL 61704
Welcome To Our Christian Science Society!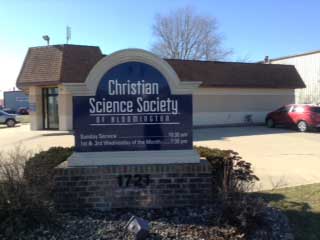 Christian Science is firmly grounded on the teachings of the Holy Bible, both Old and New testaments. Its practice is drawn from the teachings and healings of Jesus and the early Christians, and Christian Science is available to anyone to study, understand and apply.
The term "Christian Science" refers to the theology and healing system discovered by Mary Baker Eddy during the latter part of the nineteenth century, as well as to the Christian denomination and church organization she founded in 1879.
Christian Scientists view curing illness through prayer as an important and natural aspect of Christian life. Over many generations, Christian Science treatment, as it is called, has proved a safe and effective means of health care. But this healing practice is primarily a means of drawing closer to God.
Our church services help us draw closer to God by providing a thought-provoking contemplative service on Sundays (10:30-11:30 am) as well as an opportunity to share healings and insights at our mid-week meeting every Wednesday evening of the month (7:30-8:30 pm.) Students up to the age of twenty are welcome in our Sunday School, which runs concurrently with our Sunday service.
Reading Room
The reading room is a bookstore where Bibles, Christian Science books, magazines, and other books are available for purchase, loan, or reference. All are welcome.
Our Pastors are the Bible and Science and Health with Key to the Scriptures by Mary Baker Eddy. Science and Health was first published in 1875 and has been providing the healing truth to mankind since that time. An entire chapter of the textbook is devoted to healings that people have experienced simply by reading the book.